Wedding & Elopement Packages
To us, every wedding is unique and should be treated that way from start to finish. For this reason, we always encourage couples to send us an email or give us a call and discuss the details of your wedding so that we can give you a custom quote. Our wedding and elopement package prices are reflective of the time and effort that we put into each of our wedding films. From before the wedding until the final delivery, your film is completely designed with you in mind. We offer different, customizable packages depending on the type of event. Below is more info on our wedding, elopement, and destination/adventure packages.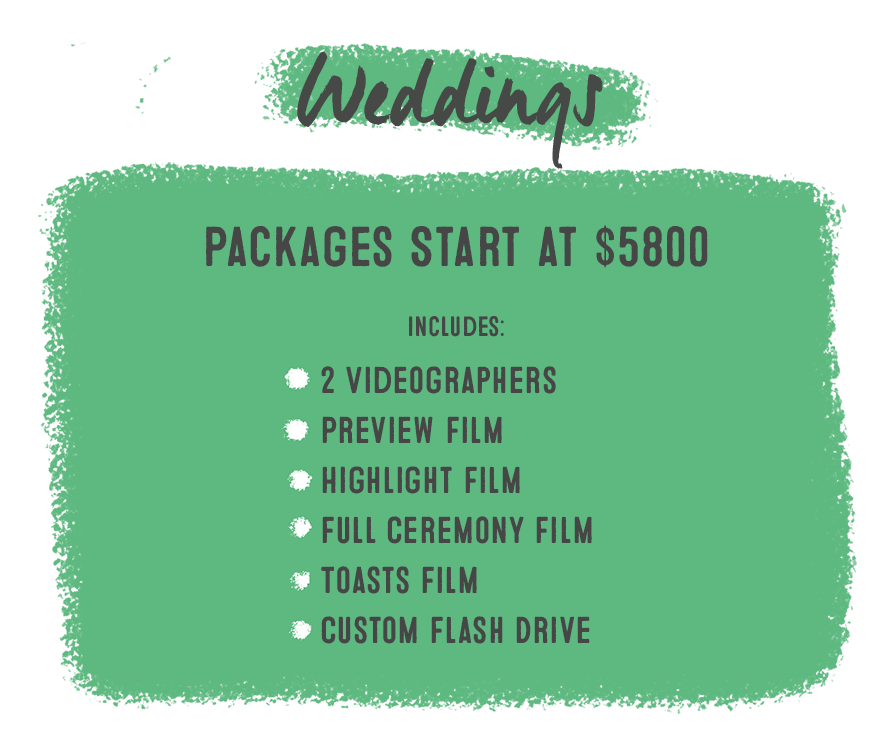 Our wedding packages are for couples planning a full wedding with over 30 guests. These packages typically include full day coverage from 'getting ready' to the open dance at the end of the reception. Our package prices vary based on the date, size, and location of the event, so make sure to reach out for a custom quote for your wedding day.
This elopement package is for couples who are ready to adventure! Most couples who book us have a full day planned - whether it's a full day of events or a full day of driving/hiking to find an epic location. We recommend this package to eloping couples who want their full journey documented. And by the way, we're always up for an adventure!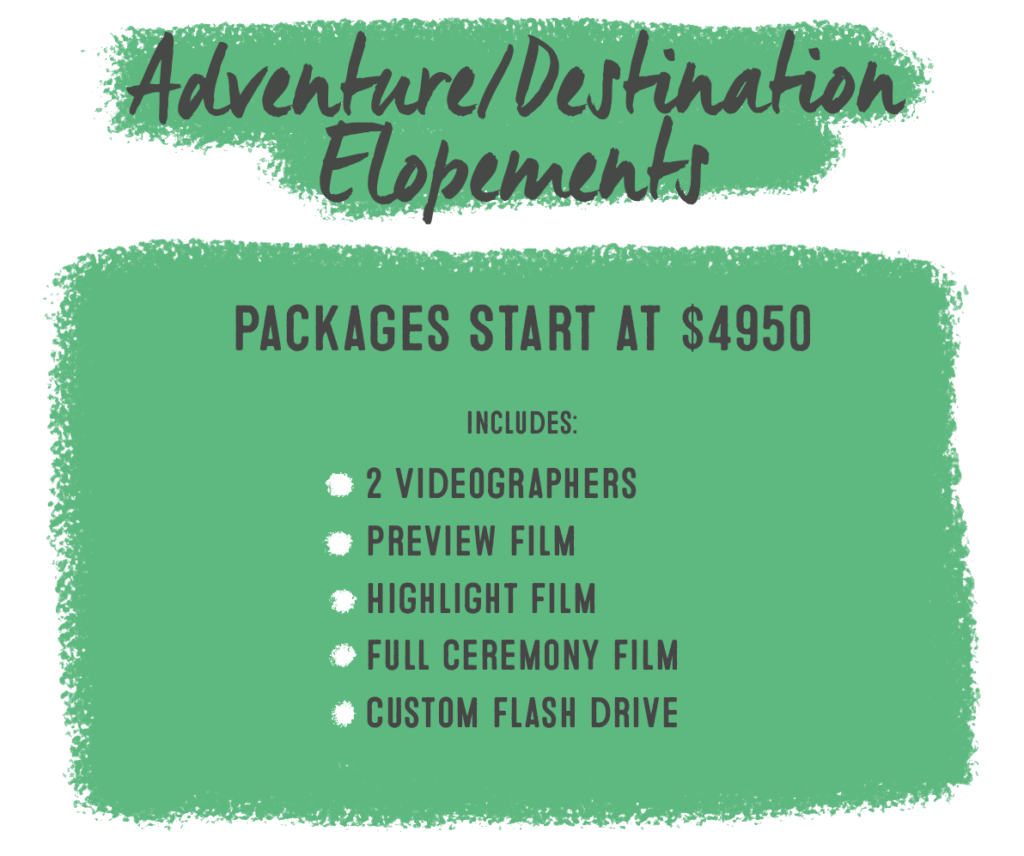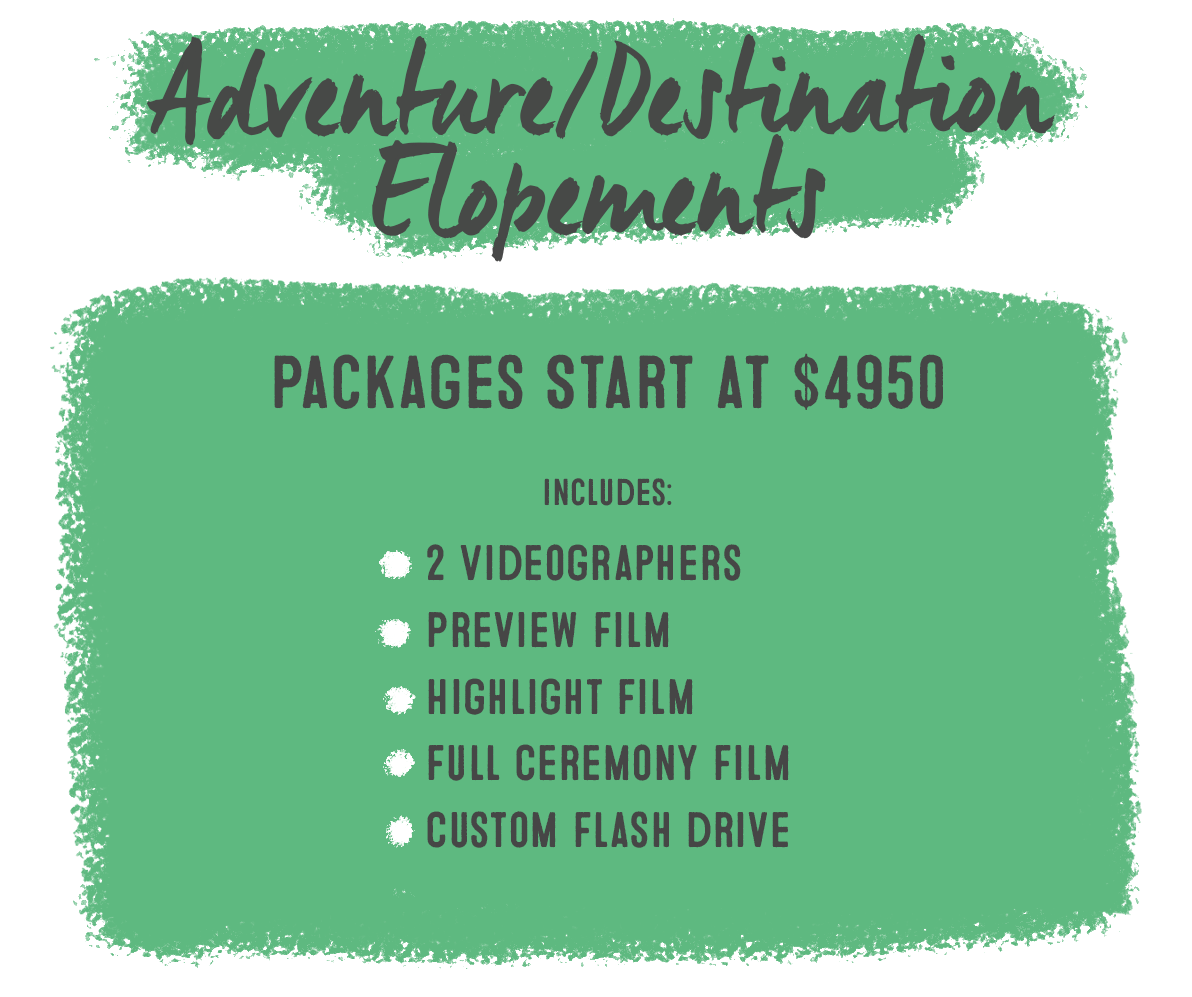 Planning a short, local elopement (courthouse, backyard, local venue)? Contact us for a custom price quote!
Eloping at TreeHouse Point? Reach out for custom pricing!
How do I know which package works best for me?
Every couple is different, and no wedding or elopement is exactly like another. For this reason, we are totally open to customizing our packages to fit your day. The main detail that we look at is the timeline so that we can work with you to figure out how many hours of coverage are needed to tell your story.
What do your packages include?
All of our wedding packages (and most of our elopement packages) include a highlight film, full ceremony film, toasts film, and short preview film.
How long will it be until I get the final videos?
We put the same effort and passion into every project we take on. For this reason, we ensure that we give ourselves the time needed to complete projects without feeling rushed. Our contract says 90 days is the maximum time for the final package to be delivered to you. During off-season we usually get everything returned within 60 days. However, most of our wedding & elopement packages include a preview film that is always delivered within a few days of the event.
How would you describe your videography style?
I love answering this question! First and foremost, we are storytellers. No matter the event, we always find the story and work towards furthering that. I like to describe our style as a blend of documentary and cinematic. Our goal is to document your wedding day in a creative, engaging way. We want to create a product that totally feels like YOU.
Do you travel?
Definitely! We will travel just about anywhere to tell your story. So far, we've filmed weddings in Washington, Oregon, Idaho, California, Indiana, Hawaii, Texas, and New Zealand! Send us a message with more info on your date & location so we can give you a custom quote.
I'm planning an adventure elopement. Do you guys do those?
Heck yeah we do! We're always up for an adventure! As a matter of fact, adventure elopements are some of our favorite events to film! Usually about half the wedding videos we create are for elopements or intimate weddings. We've been to the North Cascades, Olympic National Park, Mount Rainier, the Washington Coast, and many more epic locations!
I'm ready to book. What are the next steps?
That's awesome! To officially secure your wedding or elopement date in our calendar, we require a signed contract and 50% retainer.
Have more questions? No problem! Every wedding & elopement is different, so just reach out and tell us more about yours! We'll get back to you shortly with a custom quote and more info on how we would approach your day. We can't wait to hear more about your wedding day!